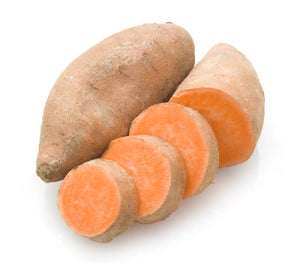 This root is not only versatile in the kitchen and easy on the wallet, but it's also a powerhouse of nutrients. Sweet potatoes are great supporters of eye and immune health and can help prevent against many cancers. Here's some of the nutrients that make them a go-to side dish or the star of your next dish.
Iron

 

– This mineral not only helps us to have sustained energy, but it also is a cofactor in the production of red and white blood cells. This promotes an optimal and efficient immune system and metabolism.
Vitamin C

 

– Not only an added boost to your immune health, vitamin C also plays a role in the production of collagen. This speeds up the healing process and helps prevent aging of the skin.
Beta-Carotene

 

– The body converts beta-carotene into Retinol, a form of Vitamin A. Retinol is an

 

antioxidant

 

that has many functions. It can fight free radicals to decrease the risk of cancer, act with enzymes to promote cell differentiation and fetal development, and is a very important vitamin in eye health and sight.
Try them sliced and baked as a healthier "french fry" or add them to a chili to cut the heat, but no matter how you eat them, sweet potatoes are guaranteed to give you a healthy bang for your buck!