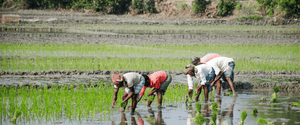 Eating the recommended amount of fruits and vegetables each day can be a challenge, and recent studies have found that the future of our nutrition is in danger. As carbon dioxide levels increase on Earth, the crops we eat are losing their nutritional value. Human activity such as fossil-fuel burning is said to be the cause of increased carbon dioxide, which is "changing [the plants'] chemical makeup and diluting vitamins and minerals," according to The New York Times.
In the study, 18 varieties of rice were exposed to the carbon dioxide levels that will exist later this century.  The exposed rice contained less protein, iron and zinc than the rice we currently grow. "The bottom line is that people will need more diverse diets with a range of quality food sources. That's already a major challenge," said Dr. Kristie L. Ebi, co-author of the study which was published in Science Advances.
Billions of people around the world are already nutrient-deficient, and this study shows it will only get worse. Humans will need to turn to supplements like XtraVite to ensure they are getting the proper amount of vitamins and minerals. Less than a teaspoon of this solution can help you feel your best and protect your body. Learn more about XtraVite, and prepare for your future today.