6 Super Antioxidants
to Promote Pain Relief, and Youthful Energy
OPCs are Super Antioxidants
20x More Powerful than Vitamin C

that protect our whole body from Free Radical Damage, 
Oxidative Stress, and Cellular Inflammation to:
Support Our

 Immune System

Provide 

Pain & Fatigue Relief

Support 

Joint Health

Promote 

Heart Health

And More Below...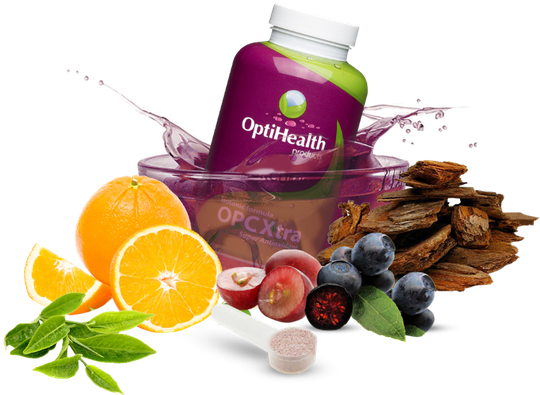 "I have been taking OPC for 22 years!  I will never not use it!  Love this stuff!" - Marisa N.
🛑  Depleted Immune Response: Free Radical Damage when not 
balanced by antioxidants will result in the body's immune response 
being deployed and unnecessarily drained.
🛑  Whole-Body Inflammation: Free Radical Damage produces
inflammation that can lead to joint stiffness, body aches,
discomfort and slower recovery.
🛑  Fatigue, Lethargy, Low Energy: Free Radical Damage effects the
energy centers of our cells and causes them to work less
efficiently leaving us feeling drained and exhausted.

🛑 Accelerated Aging: Free Radical Damage breaks down our cells
to speed up the aging process and affects how we look and feel.
"Began taking OPC over 10 years ago.  I am very skeptical about such things
but I believe that it actually does make a difference for me." - Ray D. Florida
⛔️Wait, what are
FREE RADICALS?
Free Radicals are uncharged molecules that
scavenge the body and rob your healthy cells
of their much needed electrons.
Too many Free Radicals in the body can lead to 
Free Radical Damage which causes chain
reactions that wreak havoc on your health.
⛔️ Where do Free
Radicals come from?
Sources of Free Radicals Include...
Stress 🤬 

Sunlight ☀️ 
Alcohol 🍸 
X-Rays ☢️ 
Exercise 🏃‍♀️ 
Pesticides 🐞
Air Pollution 🏭 
Smoking 🚬 
Medications 💉 
Inflammation 🔥 
Animal Fat 🥩
Blue Light 🖥️
Environmental Toxins 🌎
 So how do we neutralize Free Radicals and prevent Free Radical Damage? 
OPCs which stands for Oligomeric Proanthocyanidins,
neutralize Free Radicals to prevent Free Radical
Damage and protect our Healthy Cells.
Antioxidants are the ONLY way to neutralize Free Radicals and...
OPCs are some of Nature's Most Powerful Super Antioxidants!
OPCs 

are found naturally in the seeds, stems, and skins of plants. 

OPCs 

work synergistically together, which means they are stronger when taken together than apart.
​

OPCs 

amplify the effect of other antioxidants like Vitamin C and Vitamin E.
​

OPCs 

are most absorbable when taken as an isotonic drink.
​

OPCs 

have amazing health promoting properties and are an excellent daily supplement.
"I have been using anti-oxidants all my life. People think I look 10-15 years
younger than I am." - Steven H. New York
OPCXtra's 
6 Super Antioxidants
✅ Grape Seed Extract, 30mg
✅ Pine Bark Extract, 30mg
Grape seeds are rich in antioxidants
including phenolic acids, anthocyanins,
flavonoids, and OPCs. Grape Seed is one of
the best-known sources of
proanthocyanidins. Due to its high
antioxidant content, Grape Seed Extract
provides support against oxidative stress,
tissue damage, and inflammation. †
OPCs from Pine Bark Extract exude antioxidant, antibacterial, antiviral, anticarcinogenic, anti-aging, anti-inflammatory and anti-allergic properties.
 Pine Bark Extract helps promote muscle recovery and supports circulation, normal blood pressure, bone strength, skin elasticity, visual acuity, and more.†
Bilberry Extract is rich in antioxidants known as anthocyanins and polyphenols. 
Bilberry Extract supports healthy inflammation response and protects against free radical damage and oxidative stress. Bilberry Extract supports tissues containing collagen such as cartilage, tendons, and ligaments. †
✅  Green Tea Extract, 30mg
✅ Citrus Bioflavonoids, 30mg
Researchers have long believed that substances in red wine may have health benefits. Resveratrol is a natural chemical compound found in both grapes and red wine. Red Wine Extract as a supplement has been promoted to help support a healthy aging process. †

Green Tea Extract promotes the antioxidant capacity of the body to help further protect us against Free Radical Damage and Oxidative Stress.
 The antioxidants in Green Tea Extract can support a healthy inflammation response, the circulatory system, heart health, and brain health.†
Citrus Bioflavonoids promote immune system health by aiding and enhancing the action of Vitamin C.
 Citrus Bioflavonoids have antioxidant properties thought to be particularly beneficial for  supporting blood circulation, as well as relieving allergies and joint stiffness...†
"I love this product! It has helped everyone I have talked into trying it. My son-in-law who is a doctor now takes it regularly... I can't remember the last time I had a cold since I have been taking it." - Janie A. Georgia

Immune Health
OPCs combat the free radicals that plague and deplete your immune system, and OPCs are especially helpful for people with generally poor health and immune system disorders, including frequent colds, flus, allergies, and fatigue. †
Promotes Comfort 
OPC's as antioxidants fight free radicals to provide relief from aches, pains, inflammation, discomfort, swelling, and stress, while promoting muscle and joint recovery. OPCs help support flexibility of skin, arteries, capillaries, joints, and other tissues by promoting healthy Collagen. †
Supports Joints
OPCs act as an anti-inflammatory agent to support collagen and protect it from further attack by free radicals, which means strong tissue in your skin, ligaments, tendons, and muscles. OPCs provide relief from aches, pains, discomfort, swelling, inflammation, stress, and promote muscle and joint recovery.†
Healthy Aging
Free radical damage can accelerate the aging process. OPCs fight free radicals to promote cell vitality. OPCs support flexibility and suppleness of our skin, hair, and nails. OPCs promote vision, recovery in visual acuity, and provide help with wrinkling. †
Allergy Relief
OPCs in combination with an Isotonic MultiVitamin packs a powerful punch! OPCs have antihistamine properties and provide relief from allergies. †
Supports Collagen
Collagen is a major structural protein comprising about 1% of total bodyweight. OPCs fight the Free Radicals to promote healthy Collagen. OPCs support healthy Collagen to provide flexibility and suppleness to arteries, capillaries, joints, and skin. †
Brain Health
OPC antioxidants neutralize Free Radicals to help support brain health. OPCs support memory and mental clarity by strengthening the brain against future attacks by oxidizing materials. †
Heart Health
OPCs support blood vessel walls and promote strength of blood vessels. OPCs promote normal platelet aggregation to support the health of our veins and arteries. †
"I really like your product ... I have a little more zip and God only knows what else it's helping me with!!! Also, delivery time was pretty quick!!! Thanks so much" - Estella E. Maine
"I've been using OPCXtra for many years as recommended by my chiropractor. It helps... better than anything I've tried." - Kathleen A. Connecticut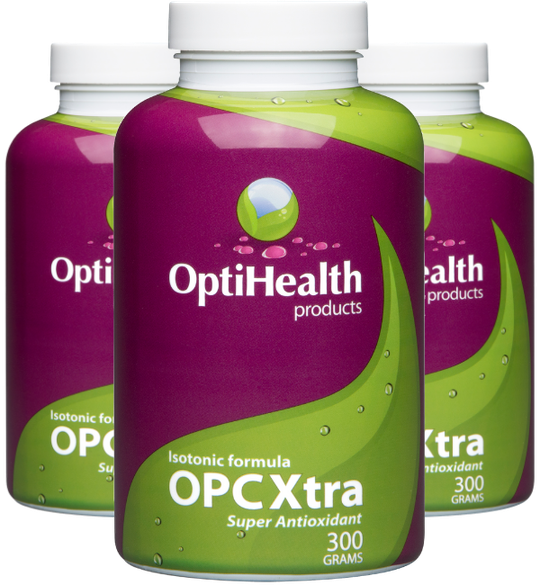 Get Your OPCXtra Today!
Try it, and if you don't LOVE it 
we'll give you your money back. There's no risk.
I've actually been taking OPC's on and off for about 9 years... It helps my blood pressure and cholesterol. Also it gives me energy and keeps my mood positive. My mother and fathe r take it as well. 
 We all swear by OPCXtra." - Andrew V. NY
Real Reviews From Real People
"We love your product. It seems to keep my husband and I healthy and especially
keeps our brains working! ... We are both in our 60's..." - Dana H. Washington
Our Family's Promise To You:
Your Health and Happiness is Our #1 Priority.
If you don't LOVE our products as much as we do, or are in any way unhappy with any of our products, simply give us a call within 365 days of receiving your order and we will give you a full refund no questions asked... even if your bottle is empty.
We believe in our products THAT much!
"I love this product, my skin is clearer, it gives me a quick boost to get going in the morning, and I also notice my seasonal allergies are better. It is the first thing I do every morning. Love it !! would highly recommend to at least give it a try." - Lori R. Massachusetts
Family Owned and Operated Since 2001
Dear Future OptiLifer Family Member,
Growing up I worked at Dickson's Service Center, which most would call a gas station, but not my father - to him everything was about providing great service.
My sisters, Gigi and Kim, and I spent a good deal of our childhood working with our dad at his Service Center and from that experience we learned from him that when you take hard work, combine it with putting others first and are willing to go the extra mile, you create a customer experience that cannot be beat. 
This is the amazing combination that has drove our family business culture for 3 generations. 
Fast forward a couple decades and in the 1980's both my father and I found ourselves living with chronic pain, fatigue, and discomfort.  
We were stuck in a seemingly endless loop of pain that lead to the hospital, which lead to surgery and medication, which brought about even more dissatisfaction. 
We were annoyed with the lack of answers and the fact that when we needed it most we were certainly not receiving the same level of service we'd grown accustomed to giving at my Dad's Service Center. 
Determined to feel like himself again, my father Bob, left no stone unturned as he explored a variety of natural remedies to treat his ailments. He tried things like MSM, Fish Oil, and CoQ10, he altered his diet... but for literally a DECADE nothing seemed to work. 
He was left discouraged and distrusting of the supplements industry as a whole.
He was just about to give up, until...
One day, seemingly out of the blue in 1995, my father found OPC Antioxidants. 

Very quickly he went from frustrated by pain and fatigue, to feeling like himself again.
He was so impressed with how OPC Antioxidants made him feel that he insisted our whole family take them!
By nature, I'm an investigator, and so over the next 6 months I set out to learn everything there was to know about his new OPC obsession.
In my research, I discovered that free radical damage is a result of oxidative stress, which is the imbalance between free radicals and antioxidants. 
I came across a list of all the different ailments linked to free radical damage and oxidative stress and saw both mine and my father's on that list. 
When we first discovered OPC Antioxidants we had to rely on an "Independent Distributor" to get our OPC's, but we struggled to find a reliable distributor who could deliver OPCs to us on a consistent basis. 
Frustrated, but determined, we thought - could we make it ourselves?
Equipped with my research of OPC Antioxidants, I contacted pharmaceutical grade supplement manufacturers, and after working with the chemists at each company, we contracted with one of the largest supplement manufacturers certified by the FDA to make our very own OPCXtra.
In our development, we discovered the astronomical prices our competitors were charging and committed to always providing our solutions direct to our customers at an affordable price.
We committed to running our Family business like a Family business.
And that amazing reliable service my father prided himself on from the very beginning of Dickson's Service Center? Those lessons have been passed on to the next generation with my sons Quinn and Ian.
We are proud of our family run business. 
If you call our phone number, my sister Gigi will answer the phone.

Everything you order from our website is packed up and shipped by my sister Kim.
Ian and his wife Alicia run our website, social media and advertising. 
Quinn is busy with high school and basketball and helps me pack out on the weekends as he can.

As for me? I'm committed to bringing you the gift of OPCs my father gave to our Family, with the quality of service he instilled in us all those years ago at Dickson's Service Center.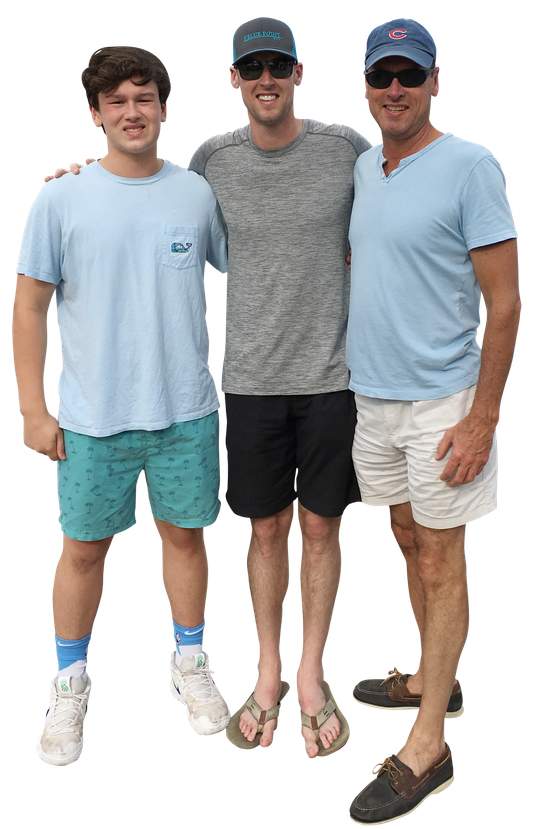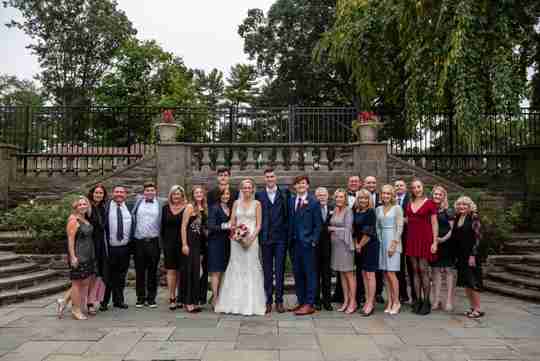 Since the day we went into business all the way back in 2001, we've offered a 365 Day Guarantee and Refund Policy because we believe you should only pay for any of our products if you love them as much as we do and we want to make sure you and your family have absolutely every reason to give OPCXtra a try for yourselves today!
As a family, OPCXtra has made a difference in our health and our lives, and we are grateful to have served over 32,000 customers so far.
We are so excited that you've found OPCXtra and we can't wait to hear all about the impact it has on you and your family!
Best of Health,
- Russell Dickson
Founder of OptiHealth Products

As a family business, we understand and value the importance of a healthy lifestyle. We are committed to providing quality, effective products made with only the best ingredients, herbal extracts and nutrients. All of our products are manufactured in the USA in a NNFA, FDA GMP-certified pharmaceutical manufacturing facility. 
Prior to bottling, our products undergo three levels of testing to ensure purity, potency and quantity. We too are weary of all the manipulation and scams out there in the supplements industry. With our 19 years of experience and knowledge our goal is to offer a high quality product that will genuinely help people, at an affordable price. 
Our entire OptiHealth Family remains at the center of everything we do.
"I have been using this product for several years and really like it. I ran out for about a month and felt sluggish. Have since reordered and began using it again. I will not run out again as I noticed a difference in my energy level once I stopped using the product."  - Regina L. West Virginia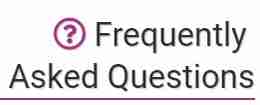 What are OPC's?
OPCs (which stands for Oligomeric Proanthocyanidins) are the amazing active components with health promoting properties found within food and plant sources including red wine, pine bark, berries, grape seeds, and many more. OPCs have a history of study and have been used long before present day as a treatment around the world. OPCs are antioxidant rich and an excellent daily supplement for promoting a healthy response to inflammation in the body. 

What are Antioxidants?
Antioxidants are compounds that protect our cells and tissues from damaging interactions with free radicals. Well known antioxidant nutrients include A, C, E, zinc, selenium and beta-carotene. These nutrients bolster the action of our natural defense enzymes.
How powerful are "OPC" Antioxidants?
They are 20 times more powerful than vitamin C and 50 times more powerful than vitamin E. They are non-toxic and cross the blood-brain barrier.
What makes OPCXtra more absorbable than other formulas?
Our isotonic delivery allows OPCXtra to be absorbed and used in the body's metabolism. The Isotonic state allows the body to achieve Xtra absorption as nutrients pass directly into the small intestine and are rapidly absorbed into the bloodstream. All of our supplements, including OPCXtra are delivered using an Isotonic solution for Xtra absorption. 
What are the ingredients of OPCXtra?
Each serving of OPCXtra contains 30mg of each of our 6 Super Antioxidants (Grape Seed Extract, Red Wine Extract, Pine Bark Extract, Bilberry Extract, Green Tea Extract & Citrus Bioflavonoids) as well as the Xtra benefits of 30mg of Vitamin C and 15iu of Vitamin E.  
How much OPCXtra should I take and how often?
As a dietary supplement take 1 scoop mixed with 2 ounces of water EVERY morning on an empty stomach.  If you are new to OPCXtra take 2 scoops mixed with 4 ounces of water daily for the first 7-10 days. Follow the single serving directions thereafter. 
 QUESTIONS
support@optihealthstore.com 
or call 1-866-875-1255
"My daughter introduced me to this product in July. At the time I was having constant pain in my hip and back and my physical abilities were SEVERELY limited. I could get no relief from any medication I had tried. Now I am active again and my life has completely changed, thanks to this product." -  Dorothy G. New York
 Step 1: Select Your Package Below
QUESTIONS
support@optihealthstore.com
or call 1-866-875-1255